Just like most things, interior design, homes wares and furniture all go through trends.
Colours and styles all come and go and then often come back again. That's why to me it is important to only buy things that you love and that speak to you, not what's en vogue.
And if you are thinking of paying big bucks for an item, then you want to buy something that will not only last in the quality stakes but that will be never go out of fashion, it has to be versatile to work with a number of styles.
But through all these trends, certain designs of furniture just never seem to fade. They seem to always be there somewhere, quiet work horses of the furniture world, just doing what there were designed to do.
And that is the secret of their longevity. They are well thought out, almost always simple in their design, made to meet a particular function. These pieces are classics that will always have a place.
One of these is the pedestal table or as it is more affectionately known, the 'Tulip Table'.
Designed in 1956 by Finnish born Eero Saarinen (Aug 1910 – Sept 1961). Although an architect by trade, he also had a keen interest in furniture design collaborating and winning awards with fellow designer Charles Eames.
The design for the pedestal range, which included chairs (with or without arms), coffee, side and dining tables and also a stool, came from what Saarinen referred to as 'a slum of legs' and was over five years in the making. He wanted to simplify chair and table design, the goal was to design furniture with less legs, that could be assembled from one material moulded into shape.
The design was considered experimental at the time, originally the design was to be constructed entirely from moulded fibreglass, however this failed as the the base was not strong enough to hold the upper forms and so cast aluminium was used instead.
Today the table is available with a choice of either a black or white base and tops in black or white marble, timber and the glossy white and can be round or oval topped.
I have a tulip dining table, I wish I could say that it is an original or even new from Knoll, the official manufacturer now of Saarinen's designs.
But alas it is not, my budget does not stretch that far.
However this does not stop me appreciating the design, with its simple curved lines and crisp white (in my case) smooth surfaces.
Below are some interiors that also sport the 'Tulip Table', I think you will see just how versatile this table is, its simple design can work with just anything.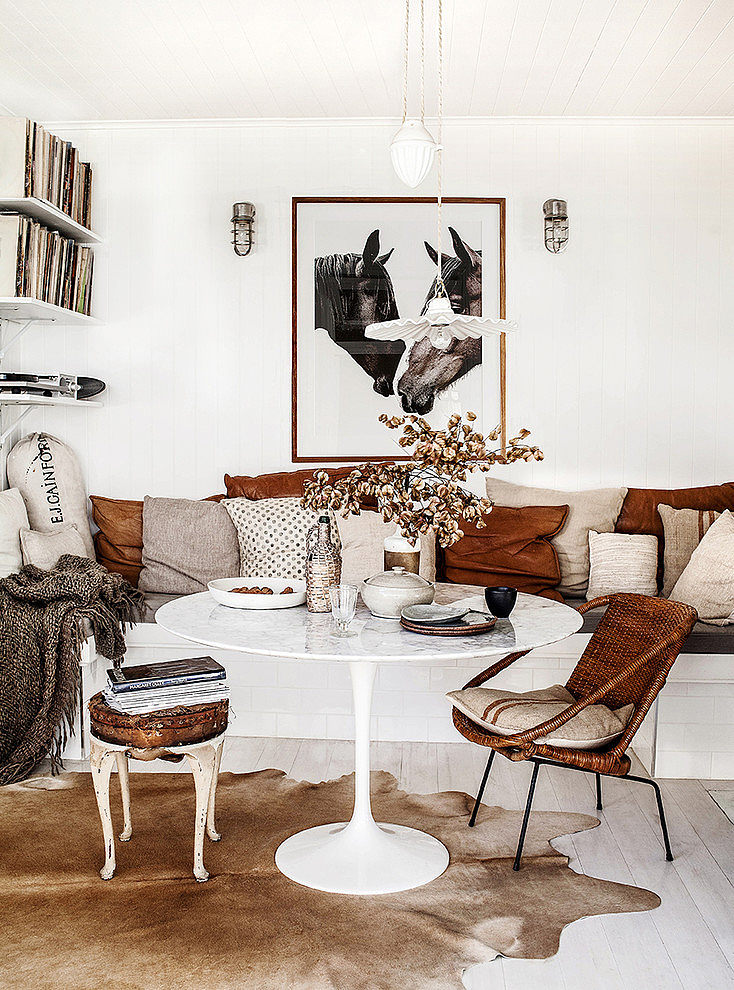 Ok ok!! Stop, Stop STOP! or this could turn out to be the longest post in history.
Just goes to show how versatile this classic is.
And if that doesn't inspire you then just search for 'Tulip Table' in Pinterest and find many more inspirational images of this classic in action.
Thank you Mr. Eero Saarinen.
XO XO